About the MNS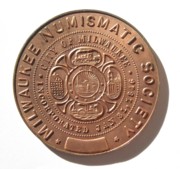 The Milwaukee Numismatic Society (MNS) is a non-profit educational organization which was founded on October 29, 1934. The MNS is the oldest and largest numismatic organization in Milwaukee area devoted to the study of money. The purpose of the society is to educate its members and the general public about the exciting hobby of numismatics. Through its monthly meetings and educational programs, the society's members and visitors learn about coins, tokens and paper money.
The MNS annually conducts a Boy Scout Coin Collecting Merit Badge Clinic every spring which assists between 75 and 100 scouts from S.E. Wisconsin obtain their Coin Collecting Merit Badges every year. MNS members have set-up educational numismatic exhibits at banks and libraries in the local Milwaukee area to promote numismatics and the American Numismatic Association's National Coin Week, which is held every spring.
The MNS hosts an annual coin show every fall. The next show is at the American Serb Memorial Hall, 5101 W. Oklahoma Ave. in Milwaukee. It's open to the public from 9:00 AM to 4:00 PM. Click here for details.
The MNS holds life memberships in the following organizations:
Monthly Meeting Information
Society meetings are held on the third Thursday of every month. See the meetings page for details. Meetings are open to all members and visitors interested in learning about coins, paper money, medals and tokens. Our meetings consist of a business portion, member exhibits, a refreshment break, and an educational program.
Check the Meeting Schedule to see our next meeting program topic. We hope to see you at a future meeting! Visitors are always welcome. Be sure to go to the membership link and print a copy of our membership application. It can be mailed, e-mailed, or brought to a monthly meeting to expedite the membership process.